Softfall matting installed including a hopscotch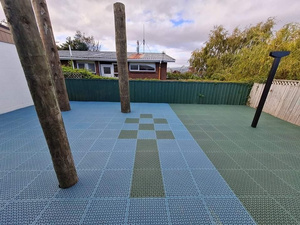 New softfall surface installed at an early childhood centre using Play Matta™original tiles and shock pad, mid green and light blue, supplied and installed by Otago Engineering. The existing matting which had deteriorated has been lifted and replaced with brand new safety softfall surface.

Play Matta™original, softfall surface is a low maintenance, long term investment. The initial outlay of softfall matting, outways the ongoing costs of ensuring the loosefill is maintained to a sufficient depth to meet the NZ playground equipment and surfacting regulations. Using a system that lasts longer makes sense.