PlayGear by Otago Engineering Ltd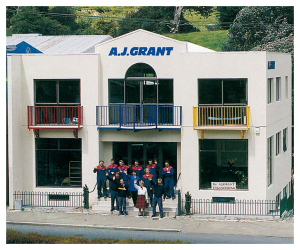 Andrew and his sister Lauren Callander took the helm of A. J Grant in 2019, rebranding to Otago Engineering.
With over 65 years as an engineering business in Dunedin, we continue to produce quality commercial playgrounds along with gates, balustrades, fencing and clotheslines. Andrew brings over a decade of experience as an engineer to Otago Engineering, and Lauren comes from a background in graphic design and administration. Together, they bring a focus on quality and creativity to every project they complete, helping clients in Dunedin and all throughout New Zealand.
When AJ Grant first opened its doors, playgrounds were a patch of grass with a set of swings, a slide and a see-saw. Now, 65 years on they are a place of fun and adventure, providing opportunity to test childrens skills, build confidence and develop motor skills and coordination.
We manufacture and install playgrounds all around New Zealand. We use the latest techniques to design and manufacture play equipment. Customer input on the design is very important to us, particularly from the point of view of delivering a product that is exactly what our client had in mind.
Tim Johnstone
Tim is our PLAYGEAR Manager and oversees all aspects of playground production, from initial client meeting, playground design layout, through to manufacturing and final installation.

Tim is a convergent thinker and has a talanted multi skill set including design and metal fabricating, practiced in the art of blacksmithing, producer of CAD drawings for workshop production, these are but a few of his competences gained throughout his 15 years of Engineering experience.
Ruth

Ruth is part of our sales and design team and can sit down with you to discuss your aspirations for your playground and give you some ideas for your project. Ruth produces our playground plans and installation instructions.