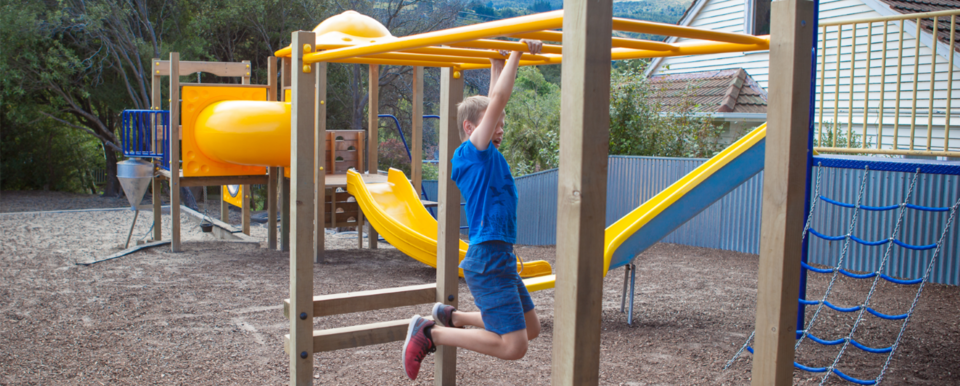 PLAYGEAR by Otago Engineering
Our playground equipment is robust using long-lasting materials such as powder-coated galvanised steel and rotationally moulded plastics. What we make, we make to last. Our clients include many schools and local authorities who recognise the need for strong, durable and safe play equipment.
PLAYGEAR adventure playgrounds can be designed to suit your budget and space requirements. We offer a range of platforms which can be raised to a variety of heights and be used to support a range of slides and chutes. They can be accessed by our exciting range of climbing equipment, which varies from a basic ladder to our crazy Corkscrew Climber. We also manufacture and install Fitness/Commando course's and also popular is our custom made a traditional flying fox where children have endless amounts of fun gliding along the high strength cable, while comfortably sitting on a pommel set.....suitable for all ages.
Playgear Early Childhood range, includes an exciting selection of slides, swing bridges, climbing equipment, tunnels, bars and flying foxes. The emphasis is on easy access but with enough challenges to develop confidence and coordination.
Swings
Our early childhood swings have proved popular with both pre-school centres and home users all over the country. We also have a wide range of Junior and Senior swings to choose from. These swing frames can be fitted with a range of swing seats, from durable belt seat to our special soft cellular foam seat.
Slides in playgrounds have always been a source of excitement for children of all ages. We have an excellent range of top quality
slides
in all sorts of styles and configurations. We use top quality materials including stainless steel, fibreglass and polypropylene.
Be it basketball, soccer or rugby, our experience in building play gear has translated well into building tough sports gear for New Zealand school and council playgrounds and gymnasiums. We use a combination of durable materials including galvanised steel and top quality netting.
See our wide range of sports goals available including different options in our Rugby/Soccer Goals and Regulation Indoor Soccer Goals and Net.
---
Our latest project
New indoor playground for Mosgiel Food Court
The challenge was to design and manufacture a colourful, fun filled playground, custom made to fit in a small area. This Playgear equipment by Otago Engineering includes a tandem slide, activity panels, pinball and O's and X's, viewing platform with binoculars, bubble panel, submarine with periscopes. The wall is wrapped in a large underwater themed vinyl decal and adds to the fun in this indoor play area. All designed to meet the the current New Zealand playground safety standards and manufactured and installed right here in Dunedin.

I'm sure this exciting new play area will bring losts of vistors to the new Mosgiel Food Court.
SEE MORE PROJECTS »