Newly laid softfall matting!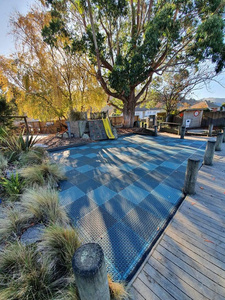 Our guys have done a fantastic job installing some playground matting for one of our local Kindergartens recently! It has completely changed the space, not only to be safer for the kids but also looks amazing!
Kids are enjoying their new Jungle Walk!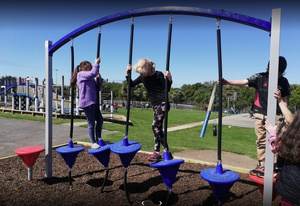 We have just installed some new playground equipment at Big Rock School in Brighton. The kids are having a great time trying out all the new items including the Jungle Walk, Whirl-i-gig and a new Wavy Slide. Perfect timing to be playing outdoors with summer coming on!
New playground for a Southland Rural Rugby Club!
Check out one of our latest playground installations!
The challenge was design and install two fun slides and custom made platforms, built around the branches of the long established Ceda tree whilst at the same time preserving its integrity. After climbiing the tree, the kids are rewarded with a thrilling ride down the slides. The colour of the slides blend in beautifully with the surroundings, making it a perfect fit, in the forefront of the school grounds.
The Print Rooms awesome initiative to keep a good thing going!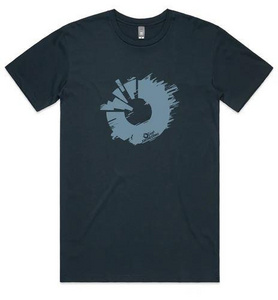 We are excited to be a part of The Print Rooms awesome initiative to keep a good thing going! Check out the merchandise we have created, design by LC Design, we would love it if you would head onto their website www.theprintroom.nz and support us in purchasing one of these awesome T-Shirt or Caps!


Checkout the link below:
https://www.theprintroom.nz/collections/otago-engineering

Playgear by Otago Engineering will resume manufacturing on 28th April
Yay everyone, it's Level 3 - well done New Zealand!
Otago Engineering and Playgear are up and running again and resume manufacturing on 28th April. We will be working in accordance with the Ministry of Health guidelines. Our showroom will remain closed during Level 3 but our sales team are manning the phones so if you need any advice just call us on 03 4530 777.

Our team is working extremely hard to clear the backlog and get your job done asap. We're extremely grateful for your support during these very challenging times.
Our office will be closed, following the directive from the Ministry of Health (we believe 4 weeks).
We are asking for your understanding and support during these unprecedented times.

Our factory and office will be closed from end of business, Wednesday 25th March until further notice from the Ministry of Health (we believe four weeks).

We will be working from home and are able to answer calls, emails and any new orders you may have. Please note, our ability to answer calls and emails will be marginally impacted, but we will try to answer your enquiries as soon as possible. For those of you who have orders currently in the system, we will be working through these as quickly as possible when we are able to safely return to work.

Please take care of yourself and your loved ones, any questions, don't hesitate to get in touch.
Large Rock Wall and Rope Climbing Structure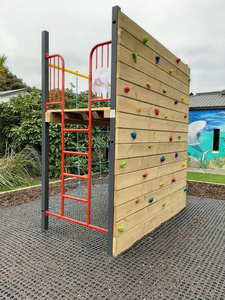 Otago Engineering have designed and manufactured a climbing structure for a school in Dunedin.
The clients brief was to supply challenging equipment requiring problem solving and fitness building. The team at Otago Engineering suggested a large Rock wall and Rope climb at a challenging height of 2.8m, a vertical ladder accessing the platforms and an easy way down with a Fireman's Pole.

We choose New Zealand made steel, timber, fibreglass and plastic products in our playgrounds as much as possible. Our metal work is galvanised steel with a smooth powdercoated finish. We have an extensive powdercoating colour range to choose from.

Playgear designs are made to meet the New Zealand playgrounds safety standards. Know that when you are purchasing from Otago Engineering, you are buying quality, well made products, custom made, to suit your space and requirements. Design, manufacture and installation, the whole package!