Playgear by Otago Engineering will resume manufacturing on 28th April
Yay everyone, it's Level 3 - well done New Zealand!
Otago Engineering and Playgear are up and running again and resume manufacturing on 28th April. We will be working in accordance with the Ministry of Health guidelines. Our showroom will remain closed during Level 3 but our sales team are manning the phones so if you need any advice just call us on 03 4530 777.

Our team is working extremely hard to clear the backlog and get your job done asap. We're extremely grateful for your support during these very challenging times.
Our office will be closed, following the directive from the Ministry of Health (we believe 4 weeks).
We are asking for your understanding and support during these unprecedented times.

Our factory and office will be closed from end of business, Wednesday 25th March until further notice from the Ministry of Health (we believe four weeks).

We will be working from home and are able to answer calls, emails and any new orders you may have. Please note, our ability to answer calls and emails will be marginally impacted, but we will try to answer your enquiries as soon as possible. For those of you who have orders currently in the system, we will be working through these as quickly as possible when we are able to safely return to work.

Please take care of yourself and your loved ones, any questions, don't hesitate to get in touch.
Large Rock Wall and Rope Climbing Structure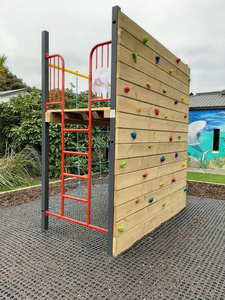 Otago Engineering have designed and manufactured a climbing structure for a school in Dunedin.
The clients brief was to supply challenging equipment requiring problem solving and fitness building. The team at Otago Engineering suggested a large Rock wall and Rope climb at a challenging height of 2.8m, a vertical ladder accessing the platforms and an easy way down with a Fireman's Pole.

We choose New Zealand made steel, timber, fibreglass and plastic products in our playgrounds as much as possible. Our metal work is galvanised steel with a smooth powdercoated finish. We have an extensive powdercoating colour range to choose from.

Playgear designs are made to meet the New Zealand playgrounds safety standards. Know that when you are purchasing from Otago Engineering, you are buying quality, well made products, custom made, to suit your space and requirements. Design, manufacture and installation, the whole package!
New indoor playground opening shortly at the new Mosgiel Food Court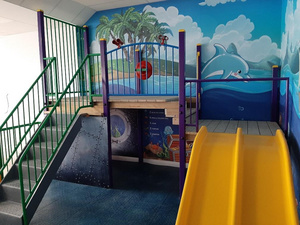 This Playgear equipment by Otago Engineering includes a tandem slide, activity panels, pinball and O's and X's, viewing platform with binoculars, bubble panel, submarine with periscopes. The wall is wrapped in a large underwater themed vinyl decal and adds to the fun in this indoor play area. All designed to meet the the current New Zealand playground safety standards and manufactured and installed right here in Dunedin.
Giant Xylophone Seat at Primary School in South Otago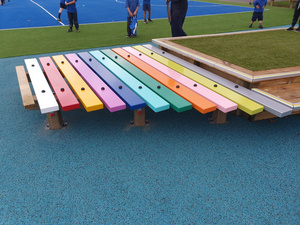 Check out this giant Xylophone Seat manufactured and installed by Otago Engineering. An eye catching feature centred in the middle of their newly designed and installed astroturf sports and outdoor area.
Fresh new look for our Quad Swing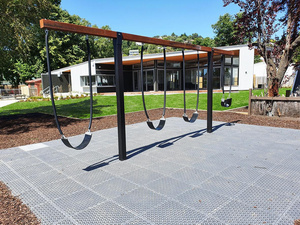 Check out our re-designed Quad Swing! Designed, manufactured and Installed by Otago Engineering in a soon to be opening Kindergarten in Dunedin. To suit the brand new modern building we have used solid chunky frames and painted them with a black sparkle and rust painted top beam. Looks fantastic!

Our swing frames can be powdercoated to the colour of your choice.
Quad Swing frame
Age Range 3 - 5 years
Equipment Dim - m 5.6 span
Space Required - m 6.0 x 6.0
Max. height - m 2.1
Commercially made Basketball Systems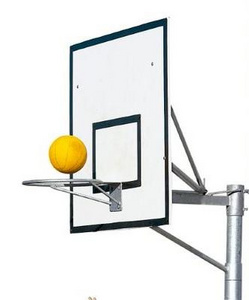 Otago Engineering build tough sports gear, ideal for schools and council playgrounds. Our basketball systems are made using a combination of durable materials including galvanised steel and top quality netting. Basketball systems by Otago Engineering, come with a 5 year structural quarantee, built to be vandal resistant and take all sort of weather conditions, year after year.

We also manufacture a Mini Ball Stand that is every bit as tough as its big "Deluxe Basketball Stand" Brother.
You know that when you are purchasing products from Otago Engineering, you are buying quality that is made to last.
Long curved fibreglass Slide at local Dunedin School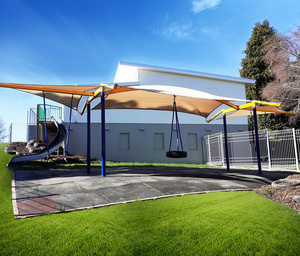 The newly installed long curved fibreglass slide makes for an exciting ride, set at 2.4m high.
Another addition to the school is a Deluxe Gyro Swing with a shade cover over the top allowing the kids to continuing playing while protected from those UV wrays on hot sunny days.