Millers Flat Anzac Day Service Celebrations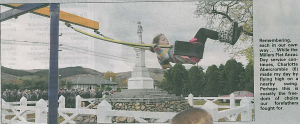 A recent article in the ODT shows a young girl swinging on a Playgear™ Quad Swing in Millers Flat, manufactured by A.J Grant. Its nice to see our playground equipment being enjoyed and seeing kid's having fun.

Playgear™ by A.J Grant play equipment can be seen in Primary Schools and Community playgrounds throughout New Zealand.