Exciting new Indoor Play Area for local Dunedin Cafe
A great way to entertain the children, while parents are able to relax and have a cuppa, knowing their charges are safely enclosed and having a ball in the
Indoor Play Area
.
The play area is custom designed to suit the site and consists of different, engaging, play activities along with the optional Boot Slide. We have a variety of
fun filled panels
to choose from.
Contact us today more information.
Flying Fox - Popular piece of Play Equipment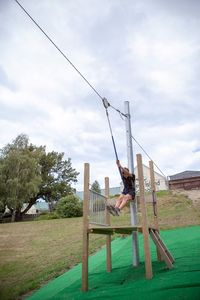 An activity we have found popular and one which we have installed in several local Dunedin school's recently is the traditional Flying Fox. Children have endless amounts of fun, gliding along the high strength cable, while comfortably sitting on a pommel seat.

PLAYGEAR™ by A.J Grant can custom make and install this stand alone flying fox anywhere from 20m to 60 metres in length and to suit your requirements and the gradient of the land. Our sales representative would be happy to come and discuss options specifically for your site, offer advise and supply you with a written quotation. Give us a call to arrange a time.

Our Flying Foxes are designed to the code of practice for New Zealand Flying Foxes.
Basketball season starts
With our Basketball and Miniball systems, our ingenious design incorporates an optional Netball Hoop that is attached on the back of the system and when required, the robust backboard can be turned around easily for a game of Netball. The revolving carousel incorporated in the stand makes this action easy with the aid of a guide hook.
Our basketball systems come with a 10 year structural guarantee and are built to be vandal resistant and take all sorts of weather conditions year after.
Purchase our quality built Playgear™ Miniball and Basketball stands or maybe you just need a hoop. We use a combination of durable materials including galvanised steel and top quality netting. See our options for practicing at home.
Busy start to the New Year
It has been a busy start to the New Year for Playgear™ by A.J Grant with playground refurbishments in a number of Kindergartens, Schools and Councils around the New Zealand.
Our services include relocating, refurbishing and/or maintaining an existing playground. We find these services useful with schools merging or other childhood educational facilities re arrranging equipment to suit their requirements.
One particular job which was completed, was a new playground in a school in South Canterbury, using some existing activities as well as adding some new exciting equipment from our Playgear™ by A.J Grant range. Because of the drought, one of the biggest problems we had was auguring the holes for the playground posts into the bone dry ground, necessity is the mother of invention!
The Summer holidays is a great time for us to work in Schools while the students are away and it also makes it an exciting time for the children to come back and start the new year to a completed, fun filled playground.
Shade Structure's and Shade Sails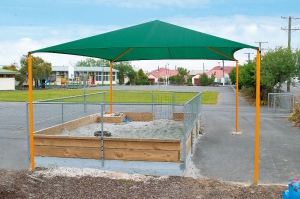 A well positioned shade structure can become the 'communal heart' of the school. Large groups of students can gather comfortably and used for a variety of activities such as eating lunch, outdoor learning and free play.

At A.J Grant we provide a programmed removal for shade sails for terms 2 and 3 and this allows warm winter sun into the area. This also protects the shade sail from strong winds and snow loading damage.

Check out our range of Shade Structures and Shade Sails and contact us today for a quote



Playgear™ by A.J Grant are sponsors of the A.J Grant Playgear League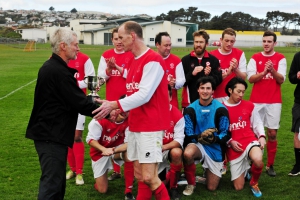 Playgear™ by A.J Grant are proud sponsors of the A.J Grant Playgear League. On Saturday the 6th of September Allan Grant is seen here presenting the "Chinese Charity Cup" to the winning team - Caversham United. Well done guys, on a great season of Football.

Playgear™ by A.J Grant are proud sponsors of the A.J Grant Clothesline League.

Our Manager attends NZAIMS Annual conference in Queenstown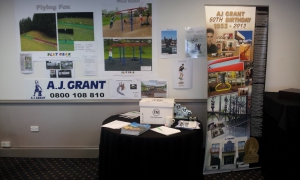 The NZAIMS (The Association of Intermediate and Middle Schooling) conference was held in Queenstown last week, which our Playground Manager Allan Grant was lucky enough to attend and exhibit our range of Quality Play Equipment.

The conference provided a platform to exchange ideas, discuss current issues and to keep abreast of developments in the sector with educational leaders invited from all over New Zealand.

Allan was able to show a display of recent work we had done at Intermediate and Middle schools around New Zealand. Of particular interest was our custom made Flying Fox which we have installed recently in and around Dunedin. Another popular product was our Automatic Sliding gates which secures the entrance, keeping all children enclosed within the School.

Held at the Adventure capital of New Zealand, Queenstown, surrounded by majestic mountains and nestled on the shores of crystal clear Lake Wakatipu, the conference was a success and a great learning opportunity for everyone.

The Star - "Keep it Local" directory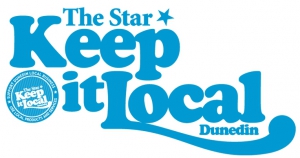 Playgear™ by A.J Grant support Dunedin Local Businesses by advertising in the "Keep it Local" section of the Star.

Currently the Star is running a competition where you can win $1000.00 worth of Lucky Local Prizes. Just purchase product with us and keep your receipt to enter.

Hold on to your Star "Keep it Local" directory (first Thursday of the month).

Fill in an entry form and attach an original or copy your receipt. Enter as many times as you want as long as each receipt is accompanied by an entry form.

Post or drop in your entry for the September draw before 21 August, 2014.

SEND YOUR ENTRY TO:
Keep it Local Competition, P.O Box 517, Dunedin.

Playgear™ by A.J Grant are proud manufacturers of quality play equipment, fitness and sports equipment along with many more products.