PlayGear™ by AJ Grant - 60 years of building quality playground equipment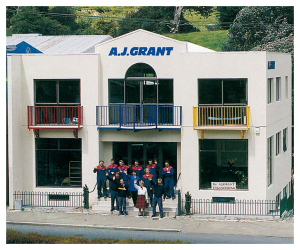 When A.J Grant first opened its doors, playgrounds were a patch of grass with a set of swings, a slide and a see-saw. Now, 60 years on they are a place of fun and adventure, providing opportunity to test childrens skills, build confidence and develop motor skills and coordination.
Our company is now at the forefront of playground equipment development, producing PLAYGEAR™, a robust, high quality product with our own innovative touches. We manufacture and install playgrounds all around New Zealand. We use the latest techniques to design and manufacture play equipment. Our sophisticated CAD (computer aided design) system allows us to produce a playground that is designed to meet the exact needs of our clients, and they can see the plan before we begin the manufacturing process. Customer input on the design is very important to us, particularly from the point of view of delivering a product that is exactly what our client had in mind.
Another string to the A.J Grant bow is
IRON GEAR
, makers of quality wrought iron gates, fencing and balustrades along with many other wrought iron products.
IRON GEAR
is managed by Allan's brother Bruce Grant. Bruce and his design team have bought the wrought iron side of the company to new artistic heights.
Above all we would like to give you our assurance of personal, attentive customer service. When you deal with AJ Grant you are dealing with a family firm which values its reputation - a reputation that has been built on 60 years of innovative engineering and service.
Allan Grant
Allan Grant, son of founder Alex Grant, joined the family business in approximately 1972. Allan manages the Playground side of the company and has vast knowledge and experience in the Playground manufacturing field.
Lauren McConville
Lauren is a strong team member, with over 16 years experience in the playground industry.
Her background is small business management and she brings her vast knowledge and strengths to A.Grant. Her role is office manager as well as playground consultant for the company.
Lauren has experience in all facets of the business and can help you plan your playground from design through to installation.
Ruth Young

Ruth has worked for 10 years at A.J Grant and she is involved in the marketing side of the business, design work and sales.