Install a 50m long Flying Fox by A.J Grant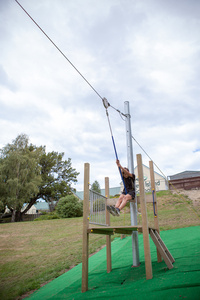 Children of all ages enjoy the fun of a Flying Fox. It's great to see kids so excited when they are lining up for a turn. The feeling of excitement as you step off the platform to glide down the cable on a pommel seat with the wind flowing through your hair.

PLAYGEAR™ by A.J Grant can custom make and install this stand alone flying fox anywhere from 30m to 60 metres in length and to suit your requirements and the gradient of the land. Our sales representative would be happy to discuss options specifically for your site, offer advise and supply you with a written quotation.

Our Flying Foxes are designed to the code of practice for New Zealand Flying Foxes.