Large Rock Wall and Rope Climbing Structure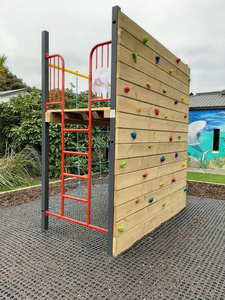 Otago Engineering have designed and manufactured a climbing structure for a school in Dunedin.
The clients brief was to supply challenging equipment requiring problem solving and fitness building. The team at Otago Engineering suggested a large Rock wall and Rope climb at a challenging height of 2.8m, a vertical ladder accessing the platforms and an easy way down with a Fireman's Pole.

We choose New Zealand made steel, timber, fibreglass and plastic products in our playgrounds as much as possible. Our metal work is galvanised steel with a smooth powdercoated finish. We have an extensive powdercoating colour range to choose from.

Playgear designs are made to meet the New Zealand playgrounds safety standards. Know that when you are purchasing from Otago Engineering, you are buying quality, well made products, custom made, to suit your space and requirements. Design, manufacture and installation, the whole package!