PLAYGEAR fitness courses designed and manufactured by Otago Engineering Ltd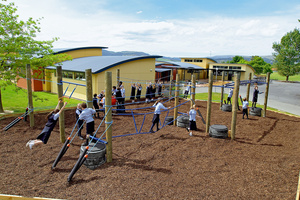 PLAYGEAR by Otago Engineering Ltd design, manufacture and install Fitness/Commando courses.
They can be designed as separate stations or when space is an issue they can be linked together. A great choice of equipment, encouraging kids to keep moving and building on their fitness.

All the ropes and nets for PLAYGEAR commando style playgrounds and playground equipment are made from high quality ropes and fittings. The ropes are made from tightly woven strands of polypropylene that cover a core of galvanised steel wire. This gives them a soft feel as well as great strength and durability. Tough fittings make sure the ropes stay where they are meant to, and are designed so kids can play without being at risk of injury from sharp exposed cable ends. Using tanalised timber posts, all posts and supports are structually engineered to meet current safety requirements.

Contact us today to discuss the best options for your requirements.